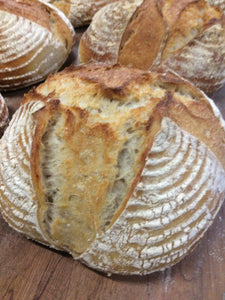 Spend a day at the bakery learning to make sourdough, yeasted bread and focaccia with Oliver Kingdon, baker of over 15 years experience and maker of your most favourite bread. Beginning at 9.30am with coffee and a pastry you will learn a range of bread making techniques. Brand new to baking? Oliver can help you learn the foundations of good bread making. Fancy yourself a bit of a pro? Oliver will help you refine your technique and hone your skills.

You will make your own sourdough pizza to enjoy alongside a salad for lunch (we'll make the salad, you don't have to do everything yourself). Take all of your breads home as well as some of our sourdough starter, which has been going since 2007, to kickstart your own baking. And, when you inevitably forget about your starter at the back of the fridge and it goes weird you can come back and we'll give you some more.

Workshops will take place in our new bakery at The Praze in Penryn which is due to open in January 2024.